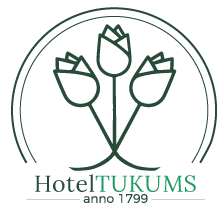 Tukums is a small town surrounded by gardens sitting at the doorstep of Kurzeme. Tukums is like a borderline between the prosperouse Zemgale and proud Kurzeme. You can still see a fusion between the small town peace and the intensity of the modern day life. They do not bother each other – a loud and fun entertainmen event can exist side by side with quiet and peaceful museum visits.
In the heart of the city lies a cozy, comfortable hotel named "Tukums". The building was built in the middle of the XIX century and in 1912 the first hotel was opened here by Gustav Zebergs. Since 1919 there was a divisional commercial hotel of Latvian Rifle Regiment, but in the 20'ies – the second class porterhouse was opened in the name of P.Kalpak.
The hotel was closed in 80'ies and was reopened after extensive reconstruction in 1999. It's a complex of hotel, cafe/restaurant, conference hall, bowling hall, billiard and hairdressing salon.
Reserve